| | |
| --- | --- |
| Name: | Charlie And The Chocolate Factory |
| Illustrated By:  | Quentin Blake |
| Publisher: |  Puffin Books |
| Total Pages: |  190 |
The book – 'Charlie And The Chocolate Factory' is about a great and famous chocolate maker and factory owner Mr. Willy Wonka who opens the gates to his amazing chocolate factory. A poor boy Charlie Bucket, who loves
chocolates gets to one of the five lucky children to get in the Wonka's factory.
Wonka Announces the worldwide contest of getting A GOLDEN TICKET.
There were five tickets kept in five different chocolate bars that were sent all over the world. The people went extremely crazy before the tickets that they bought a lot of it. This was all because Wonka was inviting those five lucky children for a tour in his factory.
My favorite character was Mr Willy Wonka. He was a clever and had charming personality. His dialogues were often serious and positive. The character was very realistic.
Not just willy wonka but most of all the characters in this story were realistic except the one – Mike Teavee – the boy who does nothing but watches television. How can there be such a boy with more than eighteen toy pistols of various sizes hanging from belts around his body?
The television lover, an addict didn't wore any spectacles too.
I would say a big yes on the fact that the story kept me guessing and in the suspense on what would happen next.
My favorite part of this book was 'The Great Glass Lift' which was chapter 25. It described about the great and extraordinary lift that went sideways and longways and in almost every direction. It was in the huge chocolate factory of Mr. Wonka. The story described the Great Life had thousands of buttons with labels to various rooms in the factory.
The book neither made me laugh out loud or felt to cry. It just goes in a way that the reader would have smile on every aspect and content of the story.
Comparing to its sequel – 'Charlie And The Great Glass Elevator' it was more interesting as well as funny. In the book I have, it contains both the adventure series.
All in all, I would rate this book 9.5 out of 10.
There is also a movie on this book. Here are a couple of pictures: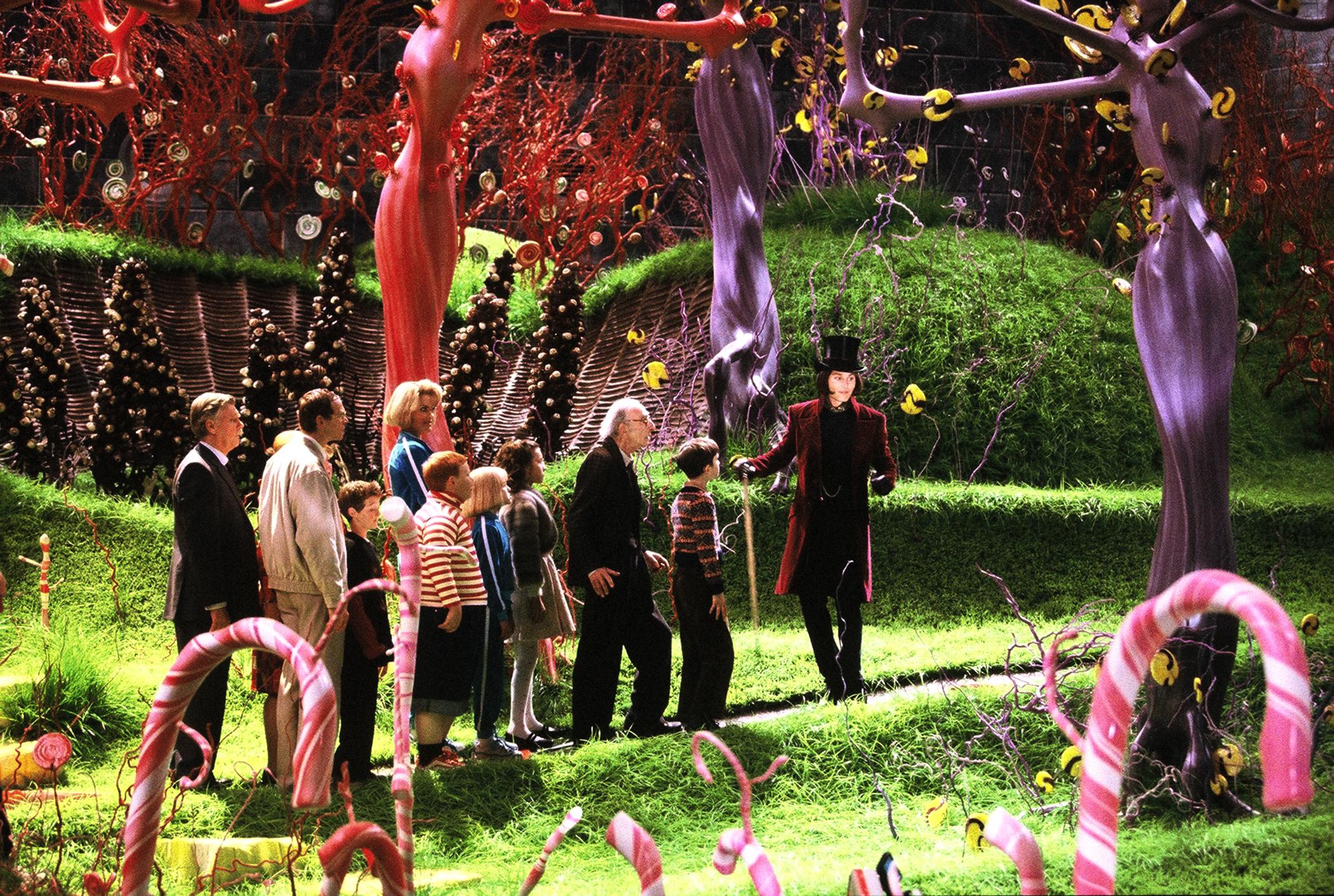 Have you been through this novel or the movie? Which one you found better? Let me know what you feel about it in the comments.